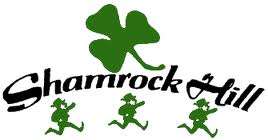 Annual Race to benefit the students of Roanoke Catholic School
Please look for registration information for our 25th anniversary of the Shamrock Hill Run in early February 2015!
2014 Run
 Another year, another successful fundraiser!  Twenty-four years and counting! This fun-filled event would not have happened without our wonderful parents, alumni, students, and staff. We appreciate everything you all offered to make this a great event.  
We would like to thank the following sponsors for their support; New River Electrical Corporation, Oakey's, Valley Bank, and Outdoor Trails (Kathy Futrell). We would also like to thank Virginia Amateur Sports for their partnership with the school and RipTex (Paul Ripley, Class of 1966) for the t-shirt design and printing.  We offer a special thank you to Patrick Patterson, Father Miller, Mayor Bowers, and Julie Frost for helping with our opening ceremonies.  
Next year will be our 25th year!  We hope to see everyone on campus enjoying this wonderful milestone.